"Yours is a wellbeing app that offers life tools we've yet to come across elsewhere."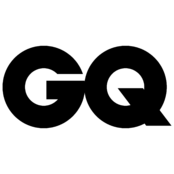 Wellbeing app Yours offers subscribers a wide range of content, delivered by the very best professionals, to enhance their lives.
Quietly launched in the spring of 2021, the app was recently described by GQ magazine as 'coolest things of the week' and its varied content has proven to be a hit with subscribers.
Featuring an extensive range of wellbeing videos and hacks including easy-to-follow yoga classes, soothing music, relaxing meditations and captivating and inspiring stories for children, teens and adults to help them off to sleep, Yours aims to be a one-stop shop for daily mindfulness.
BLOG: Does stress cause high blood pressure?
How much of an impact does stress at work and in life cause when you try to unwind at home and fall into a soothing deep slumber? Read our blog about how the stresses of our day can hamper a healthy eight hours of snooze.
Yours attends the UK Well-being @ Work Summit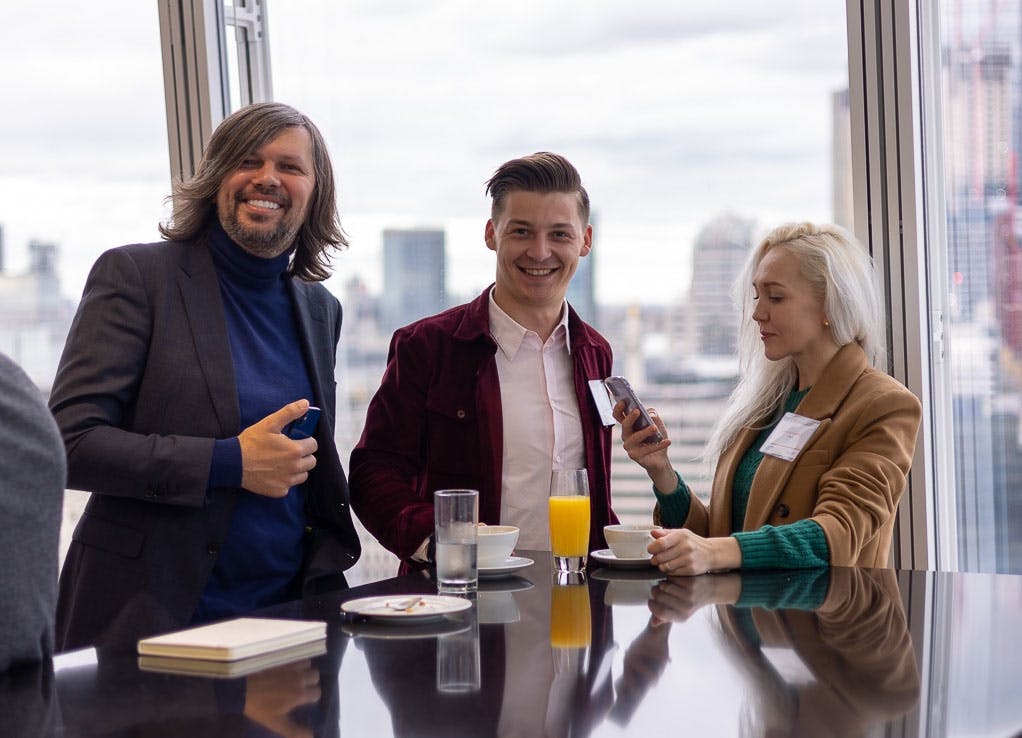 Yours colleagues Janette Daubare, Raiga and Aris Botyrius attended the seventh annual UK Wellbeing @ Work Summit on 9-11 November. The event brings together senior HR, Reward, Wellbeing, Benefit and Business leaders who are driving the diverse wellbeing agenda in their organisations and helping employees thrive.
The three-day event was set up to provide invaluable insights, inspiration and solutions to make wellbeing and mental health a strategic boardroom priority of every organisation. And it worked! Aris from the Yours team joined inspirational HR leaders from Spotify, Ocado, ACAS and Pinset Masons for a panel discussion that highlighted the importance of self-care in encouraging authentic and empathetic leadership.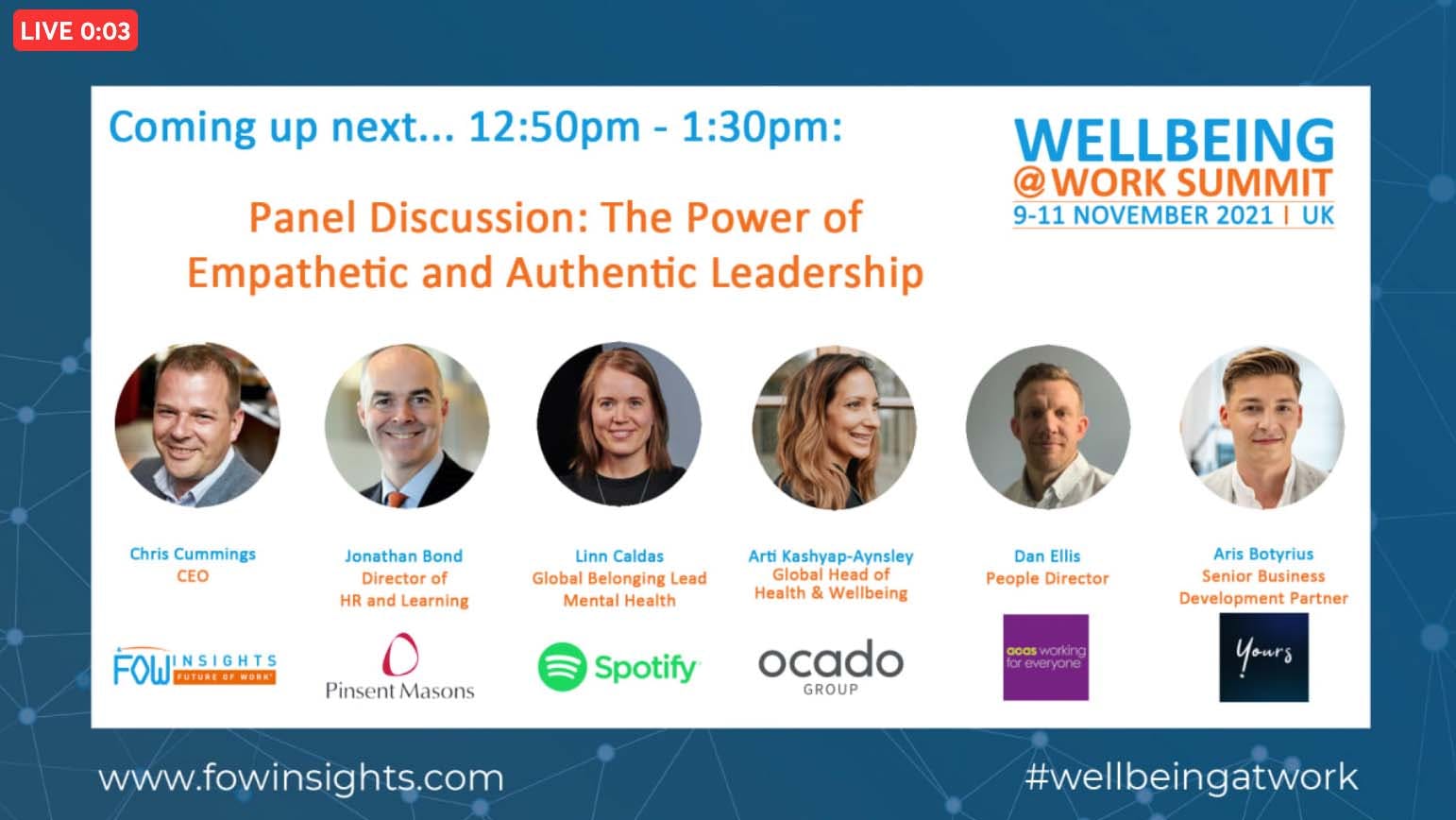 After a difficult 18 months, it seems there has been a notable improvement in the mental health of many of us and more of an awareness of mental health and overall wellbeing.
Many discussions at the London Summit revolved around moving from reactive actions to a prevention agenda. With 8 million people in the UK alone currently not receiving help for their mental health issues, the private sector is striving to create the needed support mechanisms for their needy employees.
During the event, the Yours team were delighted to meet many company heads who understand the benefits of a holistic approach to wellbeing and are actively seeking out relevant solutions and services. D&I in wellbeing also came across important topics with companies seeking out to make their wellbeing offerings more relatable across diverse teams.
Wellbeing in the work place equals increased productivity and innovation and the value of being human and creative thinking is of more importance than ever. Therefore CEOs are actively encouraging environments where people feel safe to dare and innovate.
NEWS: 10.6M Brits say their mental wellbeing is poor post-pandemic
Almost eleven million people in the UK have described their current mental health as poor, a new report has revealed. In a new study produced by the Co-op in partnership with Mind, SAMH (Scottish Association for Mental Health) and Inspire, 10.6 million are dealing with various mental issues, mainly brought on by the pandemic. Three in ten of these people are among 16 – 24-year-olds. Almost a quarter of those questioned admitted that they had become more isolated from their community during the pandemic.
Over a third agreed they didn't have the support or tools to deal with the 'ups and downs of life' such as stress, pressure or difficult circumstances. Four out of five of these said support in the community such as having spaces to talk, activities and services would be a big benefit to them.
As a result of the research, the Co-op, alongside Mind, SAMH and Inspire are calling on the governments across the UK to recognise the importance of community resilience in post-pandemic recovery policy making, and beyond.
Another report based on new data published by the UK's Office for National Statistics (ONS), raised similar findings, that the pandemic had made people grow fearful about the future and that their life satisfaction had fallen by an average of 4%, while their anxiety had risen by 9%. People also admitted that they had become less happy and were more likely to feel that the things they were doing in life were no longer worthwhile.
Lockdown restrictions and working from home meant that for many people, they experienced increased feelings of isolation.
Around 320,000 people across the UK were survey, and it threw up inevitable variations between different regions. Those living in the West Midlands and north-west England saw the greatest increases in anxiety, while the biggest falls in life satisfaction were in Northern Ireland and Yorkshire and The Humber.
However, it has been noted that people's wellbeing has been in decline for the past couple of years. Life satisfaction, happiness and the sense of things being worthwhile were at their best in 2018-19 according to the ONS, while anxiety levels have been on the rise since 2014-15.
MANTRA: Keep Hope Alive
Sometimes we feel let down when things don't go our way. But we must never let those moments crush us. We must keep hope burning in our hearts. Take a moment to sign up to YOURS app so you can listen to deliciously calming music that will give you time to appreciate what's happening in your life.
NEWS: Heart attack sufferers who practice mindfulness are less likely to become depressed:
Survivors of cardiac arrest who practice mindfulness during their recovery are less likely to suffer from depression. In a study conducted by Alex Presciutti, a PhD candidate in clinical psychology at the University of Colorado Denver Author, says it is beneficial for those who had been ill to focus on the here and now and not wallow in the past or worry about the future.
"Mindfulness can be defined as non-judgmental awareness of the present moment through techniques such as meditation or yoga," he said.
Presciutti went on to explain that taking long walks and playing closer attention to the world around them can help distract the mind and ultimately help them relax.
Even the American Heart Association (AHA) agrees with this and noted in a scientific statement issued earlier this year that highlighted its potential mindfulness as a protective tool for reducing stress and bolstering well-being among heart patients.
Presciutti says that mindfulness is useful because one in five cardiac arrest survivors deal with depression and other mental health issues, while one in four developed anxiety or PTSD.
However, he did state that the study did not actually prove that mindfulness causes depression and anxiety to dissipate, only that the two appear connected.
"This is promising news," he said, "because it means we have identified mindfulness as something that may help cardiac arrest survivors, a population that struggles with chronic psychological symptoms. Going forward, we will need to study the potential protective role of mindfulness in cardiac arrest survivors in more robust study designs."
ON APP: Figure skater Hamish Gaman teams up with Yours
FIGURE SKATER Hamish Gaman has teamed up with YOURS to write and narrate two relaxing sleep stories.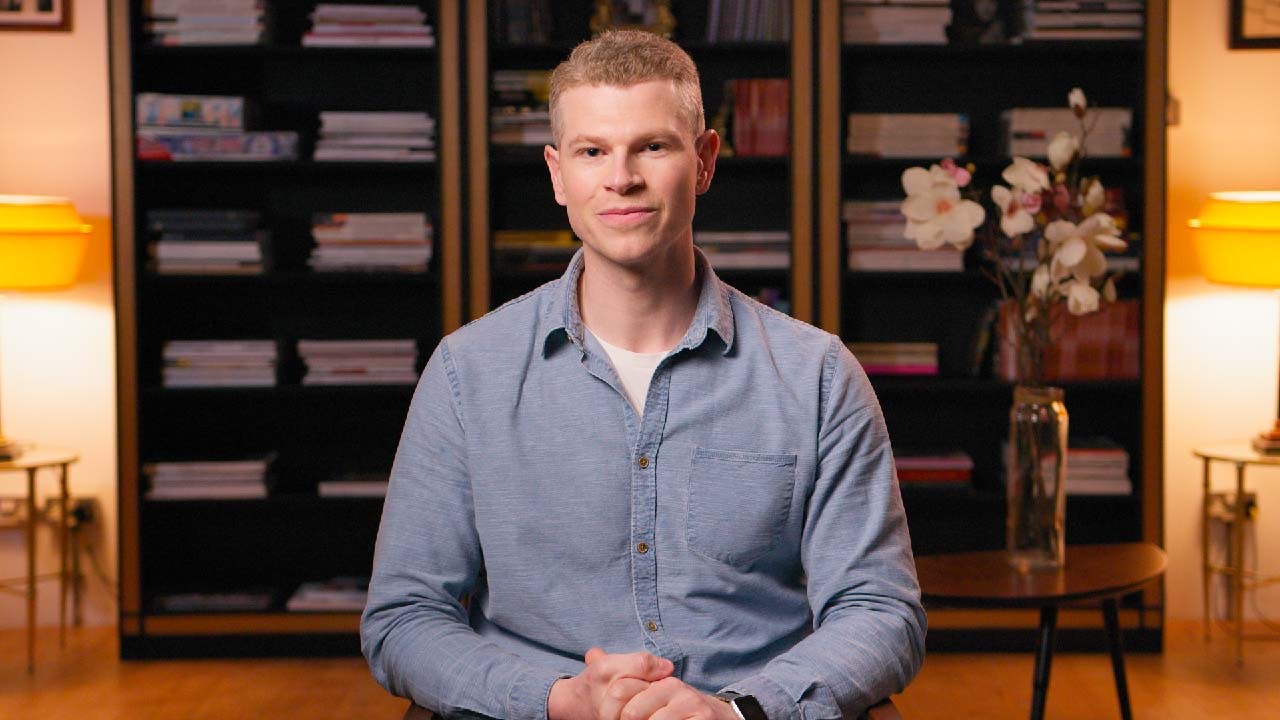 The former Team GB athlete, who has competed in European and World Junior Championships and coached skaters in Great Britain and the USA at regional, sectional, national, and international levels, has recorded two bedtime stories to help people off to dreamland.
One tale, written by Hamish himself, is called Into The Unknown – A Skater's Paradise, in which he whisks us off to a frozen lake in Switzerland. The other is Dance Like Nobody's Watching and tells the story of a lonely young teenager who finds an escape from his solitary life by ice skating.
Speaking in an interview with Yours, Hamish, who recently left Dancing On Ice, opened about what he'd like to do in the future.
"My life plan is to disappear and end up in a lodge in the mountain somewhere, kind of like my sleep story in Switzerland," he jokes, adding, "I don't really know what my life plan is really. So much has changed my life recently and things that we've seen in the last year with COVID, things can change so quickly. So what you think can be happening next year can change in an instant.
"So I've learned now to stay more present with what I'm doing, plan ahead, but not get fixed on that this is what I must do at this set time, because there's so many things we can't control."
NEWS: Kate Garraway practices mindfulness when life feels 'overwhelming'
TV's Kate Garraway says she has been practicing "a lot of mindfulness" over the past year as she's been caring for her husband Derek Draper, who was devastatingly affected by coronavirus.
The Good Morning Britain presenter says she practices "a lot of mindfulness" when she feels life is becoming "quite overwhelming" and admits that she has experienced "great loneliness and fear" while her husband Derek Draper's battled with coronavirus and its after-affects.
"I've had moments of great loneliness and fear," she said this week promoting new BBC show called Walking With…Kate Garraway. "It's hard because the person I wanted to give me a hug is the person that can't – and that's Derek. There's something about [going to the countryside] and reminding yourself that you can feel the countryside wrapping its arms around you and giving you love back. I feel very grateful for today.
Speaking about her jaunt away from the city, she said: "I think this is probably the first time, certainly since Derek contracted COVID, that I've had a whole day to myself with no purpose other than taking in the sights and sounds, just the joy of the countryside. I was doing a lot of mindfulness and trying to create some space in my head when it feels life is quite overwhelming. It's much easier to do when you're somewhere like this. It is much easier to hang on to the hope of a miracle. A great sense that anything can happen."
Derek was hospitalised in March 2020 until April 2021 with a serious case of coronavirus which affected his organs. While he was able to return home, he needs constant care.
LISTEN: The Red Cliffs of Val De Lobo
Feeling stressed? Is the world around you beginning to smother you? Then head to Yours' SLEEP category and select The Red Cliffs of Val De Lobo. Within seconds, you will be transported to the gorgeous hot sands of the Algarve coastline where we meet Leesa, who is trying to turn her life around.
The sultry story is read by the celebrated actress Angeline Ball, best known for her roles in The Commitments, Shameless, Keeping Faith and more recently the film Deadly Cuts.
ON APP: A YOGA TIP TO HELP YOU OFF TO SLEEP
From time to time, it is hard for us to drift off to sleep. If you are having a tough time doing so, why not give Yoga Nidra a try:
Lie down in bed, get comfy.
Feel the support of whatever is beneath you.
Become aware of the shape of your body.
Notice the movements of the breath: belly, ribcage expanding.
Progressively become aware of the different parts of your body.
Sleep.
For an in-depth dive join our instructor Natalie in our Yoga Nidra meditation session, available on our mobile app. Link in bio.